Interview with Alexandre De Coster,
support and quality manager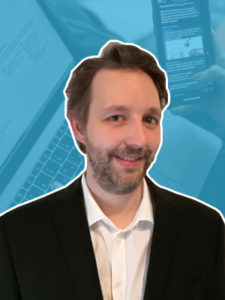 Who is behind Cover group? This autumn, we would like to introduce you to Alexandre De Coster, our support and quality manager. He took the time to answer our questions and tell you everything! His career path, his experience at Cover group and much more. Keep on reading to know more!
Tell us a little about your career path: how long have you been working at Cover group and what do you like best about the company?
I'm an industrial mechanic, but I've never worked in that field, except during my internships. From a young age and being very comfortable with computers, I always wanted to work in IT. When I left school, I went straight to work in IT with a big company in Brussels. I was an IT consultant for five years.
I've been with Cover group for ten years now. At the beginning, I was only in support, and I climbed the ladder over time. I worked on a lot of projects that are still relevant in the software industry with Christof Hullaert, the head of the development department. For example everything that was infrastructure, server management, automation and a lot of code. I was then asked to become manager of the support team and to create a quality department, in charge of validating Cover 3D versions.
Cover group is a human-sized company. I came from a company of 300 people, where you can be replaced very easily. At Cover, that's not the case. Every employee is a person, with their own skills and even their own shortcomings. Cover group saw my potential and, over time, I was able to take on more responsibility within the company.
What does your job involve?
My day-to-day work consists of managing the support and quality team. I help customers and suggest solutions. Sometimes I have to find a way to unblock the situation without the customer having too much impact. I also manage the service tasks, creating new developments, environments and test cases. And finally, I manage the servers, which is more the system administration part.
What do you like about your job?
Customer satisfaction is at the heart of my work. My goal is to offer them quality support. There is never a day that is the same. What I like about IT is the emergence of new technologies.
What would be the ups and downs?
The disadvantage, for me, is that we do a lot of phone support and we don't get to see the customers physically very much, except for some exceptions. And then of course, the advantage is that human contact, whether it's with a customer or a colleague, which I particularly appreciate.
What are the qualities you need to work as a support and quality manager?
I think you need to have a certain deductive and logical mind. This helps to correctly identify the requests. The problem is always the expression of the need, what the customer is going to ask and what he really expects. So I would say that you have to have a good analytical mind. I would add the fact of knowing how to find solutions quickly.
3 words to describe Cover group
Innovation, human and entrepreneurial spirit.