Interview with Christof Hullaert,
CTO
Who are the people behin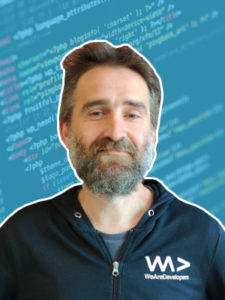 d Cover group? This summer, we invite you to get to know the team. Christof Hullaert, our chief technical officer (CTO), took the time to answer our questions! His career path, his experience at Cover group, he didn't avoid anything. Continue reading to know more.
Quickly introduce yourself
My name is Christof, married with 4 children and CTO at Cover group. Apart from my activities at Cover, I am also a bass player in the Belgian metal band Kanish Kannibal.
Tell us a little about your career: how long have you been working at Cover group and what is your favourite thing about the company?
I have been passionate about computers since I was six years old, a passion I shared with my father and my brother. I had destined myself for the video game industry because I was – still am – interested in 3D.
I joined Cover group as an intern in 2003. Michel Rousseau, the company's founder, offered me a job and I accepted. So I started as a junior developer, worked my way up and now I'm in management.
What I like about Cover group is the project itself. It combines the two parts I like most in development: 3D and data management. It's also a great human adventure, with its ups and downs. I think that beyond the technical side, it is also the human side that remains the most interesting for me.
What does your work consist of?
My work is divided into two parts: a management part and a more operational part. I manage the development team and work with the other teams to develop the product.
But my main task is to focus on the future. My goal is to take Cover group forward, creating a product that evolves and improves as new IT techniques emerge.
I like how I can improve the work of exterior joinery professionals. I have to find out how I can help them on a daily basis with the Cover 3D software, what will make this possible. What makes me most proud is to think that someone, somewhere, is buying a conservatory or pergola designed with the help of our software. One of the most important things for me is the purpose behind my work. It's doing something useful.
What would be the ups and downs of working in IT?
One of the big disadvantages of this job, in my opinion, would be that it is very time-consuming. It never stops: there are always new things to do, problems to solve and it never stops evolving. But that's also one of the advantages. It is a job that makes you think, that keeps you on your toes and above all that evolves in a world that is constantly changing. It never tires, there are always new things to learn and new challenges to take up.
What are the qualities you need to work in IT?
To do this job, I think you need to be passionate about it. IT is a very special industry. If there is no passion, the daily work will be hard and tiring. I also think that you need to have some kind of logic to do this job.
3 words to describe Cover group
Dynamic, accessible and innovative.