Interview with Thomas Leleux,
developer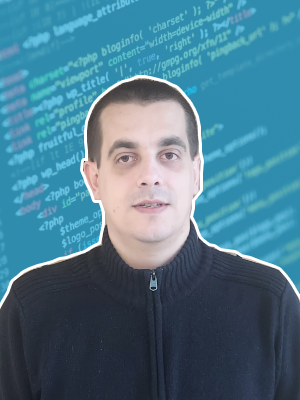 Who is behind Cover group? We invite you to meet Thomas Leleux, one of our developers. His career path, his experience within Cover group… he is telling you everything!
Can you quickly introduce yourself?
My name is Thomas, I love computers, music and photography. I started working at Cover group ten years ago, after finishing my IT university degree at Helha in Tournai (Belgium).
Tell us a bit about your career path: how long have you been working at Cover group and what do you like most about the company?
At Cover group, my first tasks revolved around testing and managing documents in the Cover 3D software. As time went on, I took on more responsibility, especially for the development of the import tariffs and the CAPM (Computer Assisted Production Management). What I liked most about Cover group was the working environment. It's a family environment where everyone knows each other and helps each other out. Of course, I also find the tool itself interesting because it uses 3D. It's a project where there is a lot of work and it's challenging. I've loved it from day one.
What does your job involve?
My main tasks are to maintain the existing Cover 3D software but also to develop new tools. For example, the latest tool I have been working on is the SketchUp export module. Currently, I am developing new tools that will be integrated in version 3 of Cover 3D. I would add to that the training of new team members, on which I support Christof Hullaert, our CTO.
What is your typical week?
At the beginning of the week, the team gets together for a "poker planning" meeting. This is a meeting where we look at future tasks and estimate time to help Asmae Bouchenaf, our project manager, with planning. Then, of course, there is the development work itself, which takes up a good part of the week. And finally, let's not forget the learning curve. At Cover group, we are given the opportunity to self-train on topics that are useful in our day-to-day work. In IT, it may seem obvious to be up to date with the latest industry developments, but it's worth noting that not all companies provide the chance to train during working hours. This is a great opportunity!
What do you like about your job?
What I like is the mystery behind being a developer. We make a computer do what we want it to do, because a computer alone will do nothing. It starts with a blank sheet of paper, writing a few lines of code, and seeing what effect it will have. It's a job that requires a lot of investment and is constantly evolving. And there are so many possibilities! These days, IT and technology are everywhere you look.
What are the advantages and disadvantages of this job?
The big advantage is that you are always learning. We have a whole community behind us, and everything evolves extremely quickly. The disadvantage is that you have to spend a lot of time on it. Time that we don't always have.
In your opinion, are there certain qualities you need to have to do this job?
Curiosity and a certain amount of logic. Without these two qualities, you don't get very far. I would add to that perseverance, not giving up at the slightest problem. Computer science is an exceptional profession that can teach us a lot if we give ourselves the opportunity.
3 words to describe Cover
Team spirit, innovation and humanity.