Interview with Asmae Bouchenaf,
project manager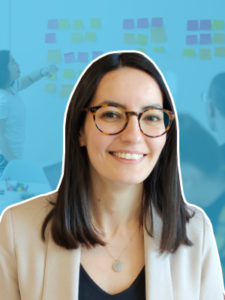 Who is behind Cover group? This autumn, we would like to introduce you to Asmae Bouchenaf, our project manager. She took the time to answer our questions and tell you everything! Her career path, her experience at Cover group and much more. Read on to find out more…
Can you quickly introduce yourself?
My name is Asmae Bouchenaf, Project Manager at Cover group.
Tell us a little about your career path: how long have you been working at Cover group and what do you like best about the company?
During my studies, I did a work placement in the retail sector. After that, I worked as a project manager in the transport department of La Redoute, then at BHV in Paris, a subsidiary of Galeries Lafayette. My role was to optimise space in the warehouses in order to have as much stock as possible.
I wanted a new challenge in a field I didn't know, so I accepted an offer from Cover group. What I like most is the human side, the teamwork. To move forward, you need everyone. In a family-run company like Cover group, you feel more connected to the team. Communication is the key.
What does your job involve?
There's a client management part: I organise the priorities of the technical team according to their feedback. I try to find solutions and get their opinions on our software. I then pass on all this information to the team. This part is joined to a rather strategic thinking, the objective of which is to have all the necessary data to decide on the future of the company.
There is also a more operational part due to the organisation of the Cover group's schedules. Even if there are always unforeseen events, I try to manage them in such a way that they do not impact the rest of the schedule.
What do you like about your job?
At Cover group, there is little sense of hierarchy. We are all treated equally. I like the interaction with all the departments, which allows me to learn things that I didn't know a few years ago.
What would be the ups and downs?
One of the disadvantages of this job is the unexpected. As an organised person who always plans everything, the unexpected can disrupt things. This is the challenging side of my daily life.
As for the advantages, I would say that it's the work with the different divisions. You could say that I'm at the centre of everything and I'm responsible for putting people in touch with each other for different projects. It's a big responsibility that I find very interesting.
What are the qualities you need to work as a project manager?
You have to be organised, rigorous and have a good memory. The aim is not to forget anything, otherwise the daily work will be more or less affected. That's why you always have to write everything down and have a clear and up-to-date checklist.
3 words to describe Cover group
Innovative, human and young.