Interview with Romain Da Ponte,
engineer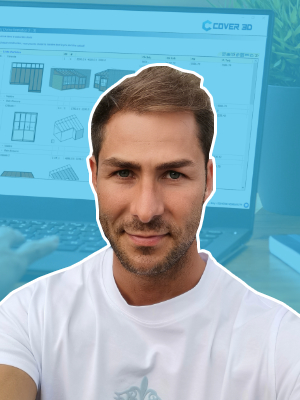 Who is behind Cover group? We invite you to get to know Romain Da Ponte, one of our engineers. His career path, his experience within Cover group… he tells you everything!
Can you introduce yourself quickly?
My name is Romain, I've been working in engineering for 10 years and I have a degree in Civil Engineering. I love sports (football, paddle and bodybuilding) and challenges.
Can you tell us more about your career path?
I started my career working in my father's carpentry business. But I always felt that I wanted more. I didn't work in my parents' company because they were my parents, I wanted to "make it" and achieve my own goals. I then had the opportunity to do an internship with a manufacturer, who trained me in Cover 3D parameterization. After 5 years with them, I unfortunately had to decline an offer that would have required me to move to another country, having lived in Portugal for years. But Cover group opened its doors to me and since then I have been an engineer with them.
What do you like best about Cover group?
Without hesitation: the human side and the team spirit. All the departments at Cover group support and help each other. We're a big group but still a small team, and that's what I find great.
Can you explain your job as an engineer?
In general, I study the customer's technical catalogues so that I can translate them and integrate them into the Cover 3D software. This involves good communication with the customer, analytical skills and technical skills to be able to identify possible options for profiles, accessories and hardware.
What are the advantages and disadvantages of the job?
The big advantage, in my opinion, is that you can work from anywhere in the world. The most difficult aspect is that it is virtual. A designer may never see the physical result of their work, which I think is a shame.
Are there any qualities you need to have to do this job?
What I like about my job is the challenges that each mission represents. Finding solutions to difficult problems. You have to be persistent and know how to visualise the projects you are asked to do before implementing them in the software.
3 words to describe Cover
Team spirit, Humanity and Motivation.