Interview with Donia Bouhleli,
engineer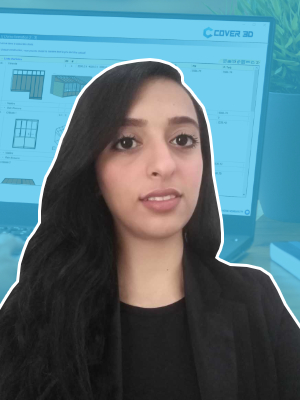 Who is behind Cover group? We invite you to get to know Donia Bouhleli, one of our engineers. Her career path, her experience within Cover group… she tells you everything!
Can you introduce yourself quickly?
My name is Donia, I am a materials engineer. In my spare time, I love to cook and listen to music.
Tell us a bit about your career path: how long have you been working at Cover group and what do you like most about the company?
When I finished my engineering studies, I had an interview with ASM, one of Cover group's partners. My first tasks consisted of setting up product catalogues in the Cover 3D software. I was then employed directly by Cover group to carry out this mission, and it's going to be 4 years (April 2018).
I love the tech industry because you discover new things every day. From day one, I liked the team – first in Tunisia, then in Belgium. But what I like most about Cover group is the human side of the company. We are of different nationalities and work in different countries. But I really like the mutual support, the working environment and the generosity of the team.
What is your typical day or week?
It always starts with receiving a request from a customer, either to add products to their catalogue or for maintenance of the same catalogue. Once this request is received, I always go through a testing and estimation to evaluate the project. When the project is validated by the client, I carry out the configuration work and deliver the project before the deadline.
What do you like about your job?
Knowing that my work is appreciated by the client, but also discovering new things with each mission. Attention that it takes 100% concentration and good stress management to solve problems when they arise and do the best job possible.
3 words to describe Cover group
Human, innovative and motivating.