Interview with Hossam El Gorchi,
engineer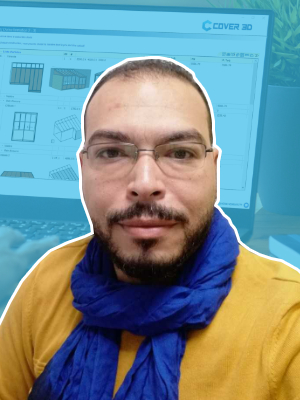 Who is behind Cover group? This winter, we'd like to introduce you to Hossam El Gorchi, engineer. He took the time to answer our questions and tell you everything! His career path, his experience at Cover group and much more. Read on to find out more…
Can you quickly introduce yourself?
My name is Hossam El Gorchi. I'm married, a technical designer by training and I'm passionate about nature and hiking. I like challenges and overcoming my weaknesses.
Tell us a bit about your career path: how long have you been working at Cover group and what do you like most about the company?
I grew up watching my dad working on plans on his drawing desk. He passed on to me his love and know-how as a design office manager, and I would like to take this opportunity to thank him.
After several internships as a steel construction designer in design offices, I started my career at Cover group in 2008, when the company was still called "Michel Rousseau Services".
Before discovering Cover 3D, the profession of configurator or business developer didn't mean much to me. But I quickly realised that I could fulfil my technical ambitions here.
I love the positive spirit that reigns in the different departments. The key word here is trust, and Cover group believed in me.
What does your job involve?
My job is to encode and interpret the catalogues of the companies into a database that can be used by Cover 3D. It's a meticulous job that requires a lot of concentration.
My main mission is to set up the configurations. During all these years at Cover, I've been able to set up different series of frames, conservatories, curtain walls and so on.
What do you like about your job?
I like the team spirit that prevails in the company, the will to evolve and succeed. Each configuration mission pushes us to give our best. And every successful delivery is a reason to be satisfied.
What are the advantages and disadvantages of this job?
The disadvantage of this job is actually an advantage. Each project is unique: you can't reproduce the same coding, with a few exceptions. It's tailor-made, and you have to listen to the client.
In your opinion, are there certain qualities you need to have to do this job?
Yes, of course! You have to have a technical background, a sense of analysis and anticipation, and a lot of concentration. You also need to be comfortable with computers and have an open mind to learn new techniques.
Any final words?
I am proud – through Cover group – to facilitate the work and daily professional life of our users through the encoding we produce, whether in their design offices, workshops or sales departments.