Interview with François Lepers,
support & quality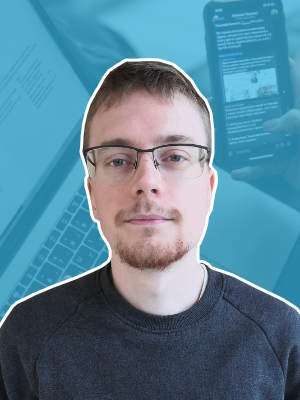 Who is behind Cover group? We invite you to meet François Lepers, from the support & quality department. His career path, his experience within Cover group… he tells you everything!
Can you introduce yourself quickly?
My name is François, I'm from Mouscron and I finished my studies in Computer Technologies in June 2021. I started working at Cover group two weeks before the end of my studies. I'm a fan of music, video games and technology.
What attracted you to Cover group?
At my first interview, I didn't know much about the company. Jeffrey De Landtsheer, from the support team, told me that it was a family business which gives a lot of freedom to its employees to grow and learn, where there is no place for micro-management. But what interested me most was that we touch a bit of everything.
Can you explain your work in the support and quality team?
There are two distinct parts to support: the first is to help customers directly, either by email or by phone, with any problems they may have. The second is to analyse the issues in order to come up with a quick and easy solution.
And of course, we also take care of quality. That is to say, we pre-test all versions sent to customers before they install them, in order to eliminate the most common bugs. We also create small internal tools that are used in everyday life by other staff members.
What are the advantages of the job?
In an IT-related job, the cliché of the introvert is a hard one. But in the support team, it's quite the opposite: you meet a lot of customers with whom you have to feel at ease. I personally think that this contact is an advantage because, even if we spend our days behind a screen, we still have human contact.
The support job is linked to the development of the tool. We see all the stages of development, which is important for knowing how the tool works and what we are going to deliver to customers.
3 words to describe Cover group
Family, Future (because we are a growing company) and Personality.