Interview with Estelle Van de Velde,
marketing manager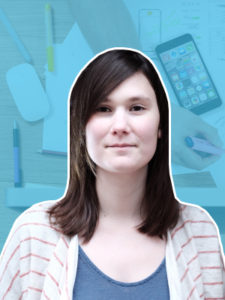 Who is behind Cover group? This winter, we introduce you to Estelle Van de Velde, Marketing and Communications Manager. She took the time to answer our questions and tell you all about it! Her career path, her experience at Cover group and much more. Continue reading to find out more…
Can you quickly introduce yourself?
Of course I can! I'm Estelle Van de Velde, Marketing and Communications Manager at Cover group. I am also an author and, secondarily, I make videos on YouTube.
Tell us a little about your career path: how long have you been working at Cover group and what do you like best about the company?
I have a Belgian bachelor's degree in communications and a British master's degree in creative writing.
I started my career in the communication department of a Belgian football club and then moved to the United Kingdom for four years. There I worked for an e-commerce company and for an online train ticket booking application.
You could say that English and I have become very close friends because I even write books in the language of Shakespeare. It was also in the UK that I got my first job in marketing. I was in charge of the French market in the two companies I worked with, and I specialised in content creation and SEO (search engine optimization).
When I came back to Belgium, I continued my career and worked for a SAAS (Software as a service) in Louvain-la-Neuve as a content manager, before landing at Cover group in September 2020.
What do I like most about Cover group? Its human side. I would even add that, contrary to other sectors, the audience is professional and friendly. It's a pleasure to be in daily contact with our clients and prospects. And when you have a team as nice as ours, you should be happy to go to work every day.
What does your job involve?
I take care of all the company's digital communication (email marketing, social networks, videos, website management, webinars, etc.) and non-digital communication (events, press relations, internal relations, etc.). I am both operational and strategic, which I love about my job.
Marketing and communication involve a wide variety of tasks. I have only talked about the tip of the iceberg. You can be very specialised in one area, as I was in my previous jobs, and not really take advantage of that diversity. That's what I like about my role in particular: there's always plenty to learn. Even if I don't have the knowledge to do a project now, I might have it in a few months. Cover group gives you room to learn and push yourself, which I really enjoy.
What are the qualities you need to work as a marketing manager?
A good head on your shoulders. In marketing and communications, the colleagues around us are so enthusiastic that sometimes you have to say no to certain projects. Generally, these ideas are good and will have a positive impact if they are implemented. You have to prioritise and be flexible to adapt quickly to a situation. And don't forget creativity!
3 words to describe Cover group
Positive, challenging and human.