Interview with Alexandre Baron,
developer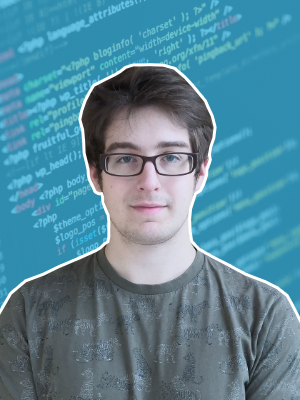 Who is behind Cover group? Meet Alexandre Baron, one of the members of our development team. His career path, his experience within Cover group… he tells you everything!
Can you quickly introduce yourself?
My name is Alexandre. I play guitar occasionally and I'm passionate about geek culture.
Can you explain your professional background?
I studied Computer Technologies at HELHa (Tournai, Belgium), from which I graduated in June 2021. I joined the development team at Cover group in July the same year, and I feel very lucky there. Cover group is a small, young, family company, where everyone is kind to each other. What attracted me was the mix between IT, which is one of my passions, and the production of joinery.
Can you explain your job as a developer?
The development team is organised in "sprints", which means that we do the work in two-week increments. At the moment I am working on the API (application programming interface) for the Cover 3D software.
The developer's job involves technology, which is constantly changing. You never do the same thing twice and it requires constant training. It's never boring, which makes it interesting every day.
To be a developer, I would say you need a good dose of curiosity, a big pinch of logic and be good with technology, because it's not always easy to work with a computer.
3 words to describe Cover group
Team spirit, Evolution and Family.