Case Study: Concept Alu's bioclimatic pergola
Perfect for controlling the level of sunlight you want to be exposed to, the Concept Alu bioclimatic pergola offers a customisable, scalable and easy to maintain outdoor living space.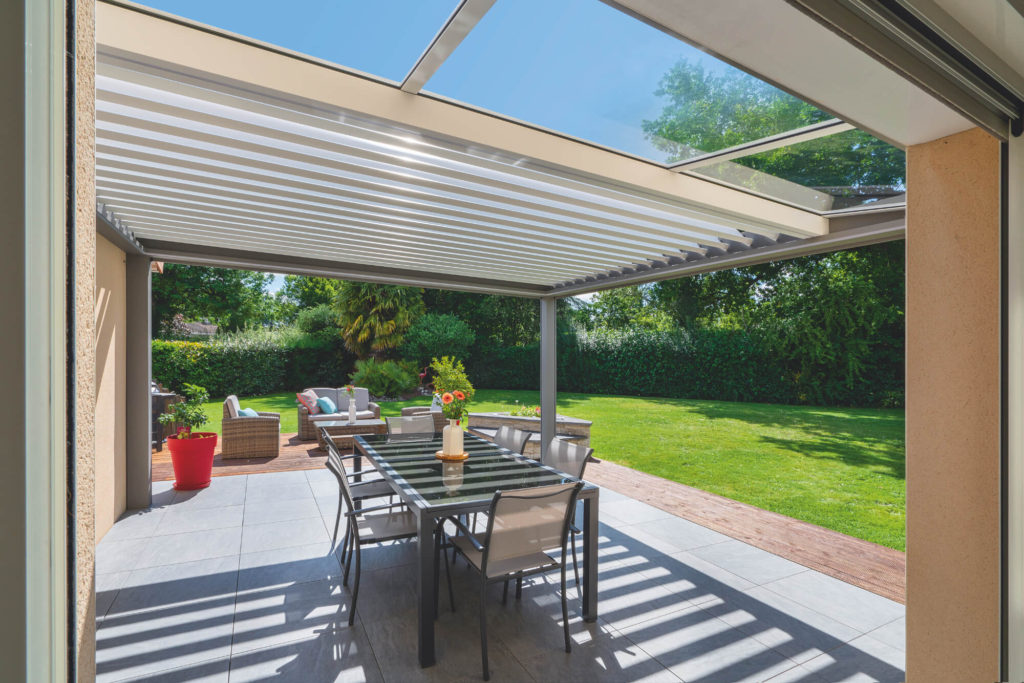 Thanks to its adjustable strips, it allows you to benefit from the advantages of bioclimatic design, such as:
Solar protection ;
Protection against bad weather;
Ventilation;
Regulation of light and temperature.
All of this can be completely modified according to your wishes.
Concept Alu has already registered 8 patents in its product range. In terms of innovation, it offers comfort solutions such as roof glazing, integrated LED lighting or the addition of a zip screen awning with a micro perforated fabric. These comfort solutions make it possible to enjoy this new outdoor living space for longer and to pleasantly extend the summer evenings outside.
The aluminium structure of the pergola can be self-supporting or leaning, and the design of the strips and posts allows water to drain away in case of rain. Concept Alu also adds home automation to control the strips, zip screen blinds and lighting… via your smartphone! And that's not all: you can even add heating for longer use during the season.
All set up with the Cover 3D software, of course!
Emmanuel Blasco, parametrist at Concept Alu since 2017
Concept Alu adopted Cover 3D in 2012. We manage everything with the software: from sales to production. It is a powerful and complete tool with which we can set up all our products, provided we get it right because it is also a technical tool that requires training.
In my experience, you have to understand the logic behind the settings to understand the tool. And at the beginning, you make a few mistakes. But it is possible to become autonomous after six months of use.
As far as the Concept Alu pergola is concerned, it took two months of work to fully integrate it into the software. We started by creating the parametric shape and thus setting the dimensions and the wire part. The pergolas have the particularity of having fixed dimensions, depending on the strips. Then came the parameterisation of the profiles, assembly nodes, accessories and machining.
However, our products are constantly evolving. It is not unusual for us to have to make a few adaptations to suit the customer. But we have a good relationship with the team at Cover group, who help us by developing Cover 3D in line with market developments.